Part I of our two-part series on January 2022 in Chicago.

Were you thinking that with Christmas and New Year's Eve gone, there remain few events in Chicago worth checking out?
Gif via giphy.

Get ready to mark your calendar, 'cos this Chicagoan's about to reveal to you some amazing events in Chicago that will ensure an unforgettable January 2022 for you!
From a flower show to a popup experience, and a live exhibit that was extended by demand, there's a variety of Chicago events in January worth checking out.
'Candy Cane' flower show at Lincoln Park Conservatory
Featuring red and white poinsettias, holiday lights, and a 12-foot poinsettia tree, the Conservatory has created an experience evoking one of the most popular holiday season treats: a candy cane.
It's an experience worth checking out!
When: Till Sunday, January 9th. 8:00 AM to 9:00 PM daily.
Check out the Park District website for more details.
'Serenity' flower show at the Garfield Conservatory
Given the kind of year we've been through, a shot at serenity would be highly welcome.
The 'Serenity' flower show at the Garfield Conservatory seeks to do just that, through a well-curated display of poinsettias, hyacinth, salvias, and a lot more.
When: On selected dates and times, till Sunday, January 9th.
Check out their website for more information.
'The Office' experience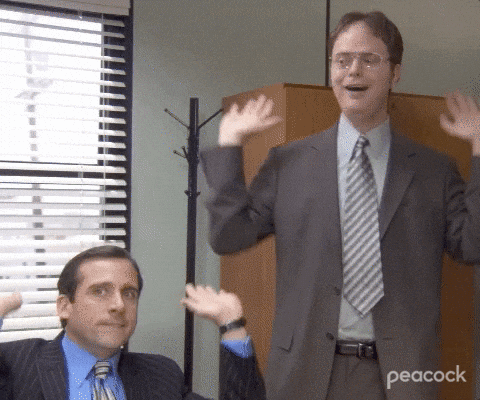 Gif via giphy.

Are you a fan of The Office?
If you are, you;'ll be blown away by this popup experience on the Mag Mile, featuring set recreations and costumes and props from the actual show.
Even if you haven't heard of the show, this is a popup you really should visit!
When: On selected dates and times, till Sunday, February 6th.
Immerse yourself in the Van Gogh exhibit
As someone that knows a thing or two about escape room design, I have an idea about the quality of 'immersion', and how it can create a stunning experience.
Which is why I say, without a shadow of a doubt, that this exhibit of the art of Vincent Van Gogh is an experience that will blow your mind.
Apart from the main exhibit, there are date night options, yoga classes and even a 'Taste of France' experience (including a wine tasting session) for you to choose from.
When: Extended by popular demand through to Monday, February 14th.
Visit their website for further information.
January Giallo 2022 at the Music Box Theater
If you haven't heard of Giallo - an Italian genre of cinema that packs elements of the supernatural, atmospheric chills, and devious characters into characteristic thrillers…
Then this is just the event you're looking for!
And if you ARE a fan of the genre, here's their webpage!
When: January 5th, 12th., 19th, and 16th (all Wednesdays), beginning at 7:15 PM and running for 90 minutes to 2 hours.
Exhibition of the works of Barbara Kruger at the Art Institute
Titled THINKING OF YOU. I MEAN ME. I MEAN YOU, this is a fabulous exhibition and a great opportunity for you to get acquainted with one of America's leading artists.
It includes works on vinyl, site-specific installations, animations, and multichannel video installations.
Ready to awaken the inner artist in you?
When: Till Monday, January 24th, 2022.
Refer to their website for further information.
Polar Adventure Days at Northerly Island
Image by Ugur Arpaci on Unsplash.

Experience a Polar winter as you see husky teams sled around the Island, encounter birds of prey, create nature-inspired objects, and toast marshmallows over a fire.
It's taking place on Saturday, January 22nd, and if it snows that Saturday, the experience will be magical!
When: Saturday, January 22nd (and one more day in February)
For more information, visit the Park District website.
Chicago Ale Fest
Breathe in the beer-blessed air, and take in the sights and sounds at the Ale Fest at the Aon Grand Ballroom at the Navy Pier.
There's gonna be over a hundred and fifty craft beers from all around Chicago for you to choose from.
Along with food trucks, game, and a live DJ.
When: Saturday, January 29th, at the Navy Pier.
For details, visit the event website.
Chicago International Puppet Theater Festival
This is puppetry like you've never seen before!
Over the 10 days of this festival,
From bunraku, to shadow, to crankie scroll, pageant-style puppets and more, puppets take over for an 10 amazing days and nights of inspiration and invention.
When: Thursday, January 20th, to Sunday, January 30th at venues all over Chicago.
For detailed information and tickets, visit the festival website.
Laws of Confusion at The Renaissance Society
Like the Vincent Van Gogh exhibition, this is an experience that you have almost certainly never undergone before…and one you'll want to visit again. And again.
A collaboration between artists Lydia Ourahmane and Alex Ayed, and curated by Myriam Ben Salah and Karsten Lund.
When: Through to Sunday, January 30th, to Sunday, January 30th.
You can visit the event webpage for more information.
Recipe for disaster! at the Windy City Playhouse/Petterino's
Image by Lily Banse on Unsplash.

A food-filled farce.
What do I mean by that?
Well, it's a play about a team of misfits manning a restaurant who have to take over and manage a major event after the head chef falls ill and the sous chef takes the wrong pill.
Created by, among others, celebrity chef Rick Bayless.
When: Through to February.
For more information, please visit the playhouse website.
The Great Chicago Fire in Focus
Part of a city initiative aimed at commemorating the Great Fire of 1871 on its 150th anniversary,
This event is the result of decades of painstaking efforts by historian David R. Phillips at collecting plate negatives that the actual photographers of the fire and its aftermath used.
Digital reconstruction techniques have made it possible to restore those images to a 'dramatic clarity never before possible'.
When: Ongoing, at the Cultural Center.
For detailed information, you can visit the city website.
The thing about January in Chicago
Image by Liza Rusalskaya on Unsplash.

Here's the deal.
Christmas and New Year's parties have just ended. The festive fervor is gone.
BUT
Most of the attractions, activities, and events that were set up for the holidays don't end. You can expect them to keep going for at least a week.
Some even go on till February.
Which means less crowds.
Getting tickets/booking is easier.
Parking, accommodation (for tourists) and a whole lot of other things are cheaper.
Ain't that a great deal?
Finally, if you're looking for an awesome team experience in Chicago, check out Chicago's premier escape room.
How are you planning to/did you spend January 2022 in Chicago?
Which events did you attend?
Tweet it out, tag us (we're @foxinaboxCHI), and attach the hashtags #Chicago, #January, and #FoxinaBox
Banner image by Max Bender on Unsplash.
BLOGS