Just how much does reel life reflect real life?

If all goes well (and that's a big if in the days of the coronavirus), Escape Room 2 will be released on New Year Day next year (a Friday).
While it's too early to say whether Escape Room will become a successful movie franchise, the very fact that there's a sequel suggests that the movie has caught the fancy of movie goers.
That being said, there's the inevitable question that arises:
How much (or little) does the movie Escape Room reflect real life escape rooms?
We know about the vast gulf between reel life and real life.
Take the famous staircase scene in The Untouchables.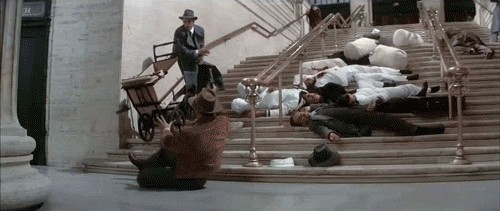 Gif courtesy giphy
While it definitely adds to the film's tension, it didn't happen in real life.
Reel life doesn't always reflect real life, even if the overall film is based on a true incident.
Which is why, given we're going to have a sequel to the 2019 Escape Room, film buffs and escape room aficionados need to know just how much the film reflects real life escape room.
Here are 5 ways the movie Escape Room resembles real life escape rooms.
Entering a code to escape
The film opens with an individual inside a room where the walls are slowly closing in.
At first, he doesn't have a clue as to how to proceed, but he pieces it together within seconds - he needs to find a code and enter it into a panel.
Finding out the code
Now, of course, the code ain't just lying around, waiting for you to find it and enter it into the panel.
There are various clues strewn around the room, which the guy needed to find out via keen observation, that reveal what the code is.
Entering the code
It didn't stop at merely finding out the code.
It had to be entered into a panel, by sliding blocks along a maze, bypassing dead ends, till they ended up in the correct slot.
This kind of a combination of finding clues, and using them to accomplish tasks is a classic escape game combination.
You are led into a room…
...and the door is shut behind you.
That's how the group of protagonists in the film started out on their escape room adventure.
And that's exactly how it works in a real life escape room.
You enter the lobby, the staff sign you in, brief you on your escape mission, and usher you into the escape room.
Once you're in, the door shuts behind you, and the clock starts ticking.
N.B. - Speaking of the door shutting behind you, whether the door is actually locked depends on the particular escape room brand. Fox in a Box Chicago does not lock the door, and players can stop the game and leave the room if they want to.
Speaking of the 'group of protagonists'...
Escape rooms are team events
The film involves a group of protagonists, who face an escape room challenge.
Their number keeps falling as, depending on their aptitude, one or more players get eliminated at each stage of the game. Kind of like how Crystal Maze used to work.
Similarly, escape rooms also involve teams of players.
The games are designed to make teamwork essential to crack them.
Players will need to spread out across the room, and coordinate their actions in order to spot clues, crack puzzles, accomplish tasks, and find their way out in time.
In fact, escape rooms are used by businesses (and other entities, like schools, non-profits, and so on) to host team building events.
Communication is key
Beginning from the very first room - the fire room (in the movie) - communication between the players proved essential at cracking the challenges.
People who started out taciturn and preferring to brood in the corner or remain strong and silent were spurred into speech once matters started heating up.
It's the same in an actual escape room.
Communication between team members is vital towards escaping in time.
An escape room makes for a great family event, forcing participants to ditch phones, and talk with each other.
You can ask for help
A phone makes an appearance in one of the levels in the movie - inviting people to call for help.
In real life escape rooms, usually, you can request help if you get stuck.
Very few rooms offer no help at all.

Some rooms will give you no more than a fixed number of hints.

Others deduct time for every hint.
There are many systems that escape rooms adopt for hints; but the bottom line is that you are allowed to ask for help if you get stuck.
And those are the 5 ways real life escape rooms resemble the one in the 2019 film Escape Room.
If you want to experience a real life escape game, check out Chicago's premier escape room.

BLOGS