Read this before you finalize your plans for the big day!

It's Almost Here!
Gif via giphy.

Black Friday 2021.
The day when there's no question of "Deal Or No Deal" - it's raining deals, all day long!
Here's the Fox in a Box guide to Black Friday 2021 in Chicago.
The best places to shop in Chicago
Image by CardMapr on Unsplash.

Don't get me wrong.
Chicago is peppered all over with thousands of exciting, unique and innovative businesses - most of them being independent brands - that can rustle up products and services.
Products and services you may never have seen or thought of before.
BUT
If you want to make the most out of Black Friday, these are the places you'll want to be at…
Shopping in the South Loop
Image by Gary Meulemans on Unsplash.

Best known for the Museum Campus, jazz clubs, and an eclectic dining scene, the South Loop also presents you with a variety of shopping options.
You have the iconic Merchandise Mart, the Fulton Market, along with our Best Buy and Target.
If you feel famished, and need to refuel in the midst of your shopping spree, you have plenty of choice ranging from pizza at Root's or grabbing drinks Bar Louie!
Finally, if you're craving a bit of adventure, you can sample Chicago's best escape room.
If you can't find us, ask for the Byline Bank entrance to Dearborn Station.
Inside the Station, look for the stairs with our sign above it.
Fine shopping in Rush Street
Luxury and high-end fashion searches usually end at Rush Street.
With establishments like Lululemon, Vera Wang Bride, and Christian Dior dotting the street, you should have no problem locating that highly exclusive whatever it is you've had your eye on.
Shopping along the Magnificent Mile
Image by Drew Hays on Unsplash.

Take the hint from the name.
Along with well-known landmarks, the Mile also houses hundreds of retailers for you to look through.
Whether you're looking for names like Nike's and UGG or department stores like Bloomingdales...or you're looking for small local brands, the Mile is where you can find them!
The Wicker Park shopping experience
Image by yns plt on Unsplash.

I call it a shopping experience as that is exactly what it is.
Remember all those unique, independent Chicago brands I was telling you about?
Well, a lot of those jostle for space with those big names like Adidas and Levi's at Wicker Park.
Whether it's vintage clothes at Kokorokoko, vinyl records at Reckless Records, or vivifying books at Myopic Bookstore, this is one shopping experience that you won't forget in a hurry!
Christmas shopping at Christkindlmarket
Our well-known Christkindlmarket begins on Thanksgiving, and goes on till Christmas Eve.
Hop in on Black Friday, and take in the sights and sounds from the myriad booths set up by vendors from all around the world.
Black Friday store opening times
Image by Tim Mossholder on Unsplash.

To help you plan Black Friday better. Please note this information is being provided as is, and you should always run your own checks before finalizing your plans.
Walmart - Opens at 5 a.m.
Target - Opens at 7 a.m.
Trader Joe's - Opens at 8 a.m.; Closes at 9 p.m. (most likely)
Bed Bath & Beyond - Opens at 6 a.m.; Closes at 10 p.m.
Best Buy - Opens at 5 a.m.; Closes at 10 p.m.
Macy's - Opens at 6 a.m.; Closes at 11:59 p.m.
Dollar General - Opens at 7 a.m.; Closes at 10 p.m. (regular hours, most likely)
Home Depot - Possibly opens at 6 a.m. (but you should use their store locator to make sure)
Hobby Lobby - Opens at 8 a.m.; Closes at 9 p.m.
Black Friday Survival Guide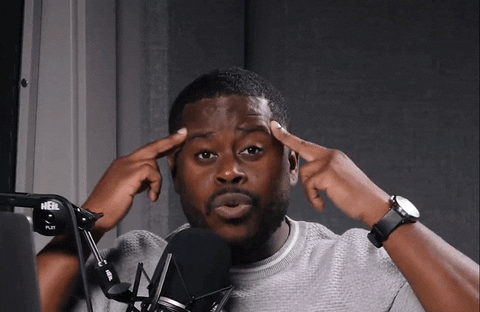 Gif via giphy.

Shopping and other tips, from Chicago's best escape room, to help you get through Black Friday.
Shop early
Unless you've been living under a rock…
You HAVE heard of the supply chain issues plaguing shoppers nationwide.
While your favorite department stores, malls, and independent retailers would have done their best to stock up in advance,
You would do well to get at least some of your shopping done early.
Keep an eye on the shopping
Image by Arturo Rey on Unsplash.

Is this shopping season? Yes.
Should you buy gifts for your loved ones? Sure. In fact, let me suggest a completely unique Black Friday gift idea.
HOWEVER
Should you shop till you drop? No.
Don't overspend. Make a budget, and stick to it.
Max out your credit card...PERKS (Seriously, don't mindlessly max out your credit card)
Image by Stephen Phillips - Hostreviews.co.uk on Unsplash.

Credit cards come with a host of perks like:
Price protection - Price drops between your purchase and your statement being issued are refunded.

Extended warranty - Over and above the standard warranty you got with your purchase.

Custom perks - Vary from card to card.
Do your research, on cards you have, and get the most out of them.
Don't forget to claim your $7 passes from Metra!
Metra is offering $7 unlimited day passes for Thanksgiving and Black Friday. If you have plans on those days, don't forget to claim your passes!
So, how are you planning to spend Black Friday in Chicago?
Let us know!
Tag us in your social media feed, and/or add the hashtags #blackfriday #chicago #fiab.
Happy Black Friday!
Banner image by Gerd Altmann from Pixabay.
BLOGS