Watch out what you do when you're in the Windy City, stranger!

The first thing to know about us Chicagoans is that we take things pretty easy around here.
Don't know how to get somewhere? Don't bother whipping out your phone if there's a Chicagoan within asking distance.
Can't win a World Championship for decades? We'll stick by you, nevertheless (we'll revisit this one in the blog).
But there are certain things that are completely off-limits.
And I don't mean off-limits like alcohol was 'off-limits' during Prohibition.
I mean really off-limits.
Here are the top 6 things you must NEVER do in front of a Chicagoan.
Want some ketchup for your hotdog?
Image courtesy Unsplash

A Chicago Style Hot Dog. Image courtesy Wikipedia.

Hot dogs are almost ubiquitous here in Chicago. We even have our very own Chicago Style Hot Dog, which is a part of almost every Chicagoan's diet.
So, what do we like in our hot dogs?
Onion rings? Check.

Pickle. Check.

Mustard? Great.

Slices of tomato? You're too kind.

Ketchup? Rot in hell.
You can gulp ketchup straight from the packet; that's fine.
But ketchup in your hot dog in Chicago? That's one thing you should never suggest to a Chicagoan.
Pro tip from a proud Chicagoan
If you really want to test our boundaries, ask for 'ketchup for DA hot dog', and see what happens.
Didn't get it?
Read on…
Inserting 'Da' before...well, just about everything
To begin with, this isn't the 'Da' that those damned Russians use when they want to say 'yes'.
Image courtesy imgflip

This 'da' is a derivative of the word 'the'.
It was used as part of the phrase 'Da Bears' in a Saturday Night Live sketch about Chicago sports fans, called Bill Swerski's Superfans. And it seems to have stuck.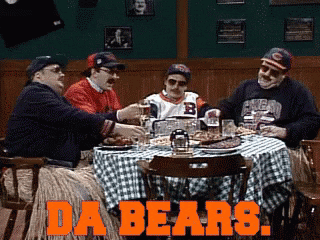 Gif courtesy giphy.

The thing is, that sketch aired when Bush was President. And I don't mean W.; I mean Bush, Sr.
And we've had time since then to keep practicing the 'Da'.
It's really come of age in these parts, aging like a fine wine.
And if you're not from Chicago…
Image courtesy imgflip

Don't bother trying!

So the second thing you shouldn't say to a Chicagoan, is 'pass me da ketchup, or 'let's visit da #1 escape room in the United States'.
Cubs. 71 years. Goat's curse.
Yes, the Chicago Cubs went without a National League win for 71 years (from 1945 to 2016), the longest drought in US history, but we still love our home team.

So, we'd really appreciate it if you avoided snide remarks about the great cub drought while you're in Chicago.
Anyway, that has been acknowledged to have been the result of a curse placed on the team by tavern owner William Sianis.
With supernatural forces involved, why blame the team?
I've seen Chicago in that movie…
...no, you haven't.
You see more of Chicago in Batman movies and tv series than most movies that claim to be set in Chicago.
It's a little puzzling, actually, why we always seem to be left out.
Contrary to what you'd expect from watching the movies, we don't go around wearing 'Chicago' caps, we don't call our subway the 'L train', and while the Loop might not be the top choice for a date after office hours, you might be surprised to find that an escape room could be the perfect place to pop the question, offering a unique blend of thrill and intimacy.
Talk about visiting the 'Willis' Tower
Image courtesy Unsplash

Magnificent, isn't it?

If you're new to the city, you might want to visit the tallest building in Chicago, and one of the tallest buildings in the United States.
Especially their skydeck, for some breathtaking views.
Image courtesy Unsplash

That's a breathtaking drop.

However, if ask for directions, the conversation would go somewhat like this:
You: Excuse me, do you know how to get to Willis Tower?

Chicagoan: What tower?

You: The Willis Tower? You know, the tallest building in Chicago?

Chicagoan: Oh, you mean the Sears Tower. It's…
At the time of its inauguration (1973), Sears Tower was the world's tallest building, taller than the World Trade Center, and a great pride for Chicago.
Image courtesy Unsplash

The Sears Tower, magnificently lit up at night.

In 2009, it was officially renamed the Willis Tower, after some British company acquired naming rights.
But we Chicagoans couldn't give a damn.
It's been a decade since the name was changed...on paper.
However, as far as we're concerned, that tower is called the Sears Tower. That's what it always will be, in Chicago.
And speaking of enduring Chicago traditions, discovering great ways to celebrate your birthday in this city is something every local and visitor should experience.


Pizza Hut has the best pizzas in the world!
I'm sure Pizza Hut is a really great brand, with a global presence, but there is no way they make the best pizzas in the world.
Not once you've tasted deep dish pizzas here in Chicago.
Image courtesy Unsplash

If you're looking for inspiration, I'd suggest one of these three - Lou Malnati's, Pizano's or Pequod's.


So, if you're new to our city, those are 6 things you must avoid. And among the things you MUST check out are Da Bean, Da Magnificent Mile, and Da Sears Tower.

All the best!

BLOGS