How you can end the holiday season in style.

From stunning fireworks displays to delectable dinners to thrilling real-life adventures - New Year's Eve 2022 in Chicago promises to be an absolute blast.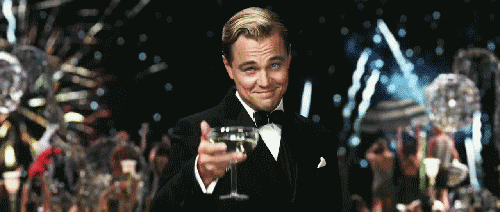 Gif courtesy giphy.

After last year's locked-down and mostly virtual New Year's Eve celebs, it's time to let out all that pent-up energy and make this NYE the most [f-word] memorable party in a long, long time.
Here are the five best ways to ring in 2022 in Chicago in style!
New Year's Eve 2022 in Chicago: Fireworks displays
Spectacular fireworks will light up the night sky all over Chicago as we bid farewell to 2021, and step into New Year 2022.
However, for the real Chicago experience, you should check out…
The Navy Pier fireworks
Perhaps Chicago's most iconic New Year's Eve event, the Navy Pier New Year Countdown and Fireworks event roars back this year with a blast.
Officially called the New Year on the Pier event, the countdown and fireworks display will be accompanied by a live event (featuring live bands, DJ's, and of course gourmet delights) at the Aon Grand Ballroom.
For further details and tickets, you can visit their website.
Zoo Year's Eve
Zoolights at Lincoln Park by itself is a major annual event here, attracting visitors in thousands.
New Year's Eve will see it taken one notch higher with their Zoo Year's Eve event.
Featuring…
millions of dazzling lights, cash bars (beer, wine, champagne and spirits), plus a DJ, games, giveaways, and more!
To know more, and book tickets, consult the official webpage.
New Year's Eve 2022 in Chicago: Parties
Image by jackieGLDN|studio on Unsplash.

Like I need to tell you we'll step into 2022 with parties galore!
From a black-tie formal to a beer-tasting do, and an escape themed event (which I presume Chicago escape room fans will be especially attracted to), there's something for everyone!
Escape: NYE 2022
Hosted at The Promontory.
In addition to open bar, champagne toast, and DJ's, the essential part of the program involves…
Whether it is that beach with the white sands or exotic location you seen on those travel sites, let's ESCAPE there together for NYE.
That's a direct quote from their website.
For details and booking, visit the Promontory website.
Casino Night at the Metropolitan
Black tie affair. Exclusive. 3 course dinner, and curated drinks. Great views. Craps, blackjack, roulette and poker to choose from.
And then of course, midnight, and a spectacular view of Chicago, and of the celebrations unfolding.
To book your place, visit their booking page.
New Year's Eve party at the District Brew Yards
Celebrating New Year's Eve by tasting beers from various Chicago beer makers, including 4 specialty shots specially curated by the brewers.
Plus of course BBQ buffet, live DJ, dancing, and a whole lot more!
You like? Then reserve a place for yourself and whoever else you want to share the experience with!
New Year's Eve 2022 in Chicago: Bar crawl by Social Scene
Image by Alexander Popov on Unsplash.

Beginning at either Beaumont Bar (2020 N Halsted St), or on Bourbon on Division (2050 W Division St), you can…erm, crawl to any of more than a dozen participating bars for specially priced drinks, to ring in the New Year.
Which bar do you think you'll end up counting down the seconds to midnight at?
Visit the booking page for further information and to book tickets.
New Year's Eve 2022 in Chicago: Rooftop event at Offshore Chicago
Image by Kit Suman on Unsplash.

The world's largest rooftop deck is gearing up to host a spectacular New Year's Eve event.
You can take in breathtaking views of the Chicago skyline and Lake Michigan while you enjoy passed hors d'oeuvres, sushi and cocktails, and groove to live music.
Interested? Then visit their event page.
New Year's Eve 2022 in Chicago: Escape room games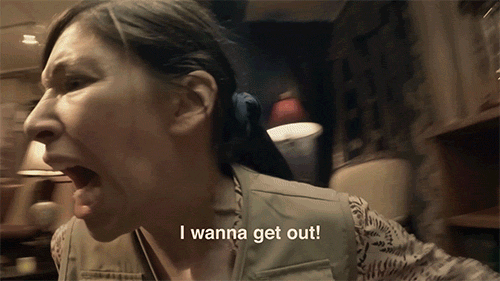 Gif courtesy giphy.

Real-life adventures that you can take part in, right in the heart of Chicago.
Easily arranged, through a visit to Chicago's best escape room.
Picture yourself teaming up with your family and your friends to…
Face off against a serial killer.

Mastermind a breakout from a prison.

Steal a stash of diamonds from a bank.

Break into a military bunker to deactivate a nuclear weapons launch.
Does that sound like a snug fit for your Chicago New Year's Eve celebration or what?
Make sure you book your spot and have an absolutely awesome NYE escape game event!
New Year's Eve 2022 in Chicago: FAQ's
Image by loufre from Pixabay.

Some of the queries you might have about partying in Chicago on New Year's Eve 2022.
What's the weather going to be like?
Just like with Christmas in Chicago this year, New Year's Eve in Chicago is also expected to be snow-free.
Chicago's record of 292 days without snow (recorded in 2012) may be surpassed this year.
So, it seems snow lovers will have to continue their agonizing wait for the beloved sight of Chicago being blanketed in a thick coat of snow.
Meanwhile, families can still enjoy the winter season with a variety of indoor winter activities that kids will love, ensuring the lack of snow doesn't put a damper on the fun.

What should I wear?
It's your party! Wear whatever the heck you want!
If you need some fashion tips for your NYE night (and day) out, here's some outfit ideas by David Sanchez.
Tip: According to Accuweather, Chicago may experience cold rain (instead of snow). So, it might be advisable to wear or carry something to keep yourself warm and dry.
Pro tip: If you do wear gloves, go for thin ones, so you can operate phone and touch payments without needing to take your gloves off.
New Year's Eve 2022 in Chicago: A final word
Image by Jürgen Polle from Pixabay.

Didn't manage to get into your favorite New Year's Eve event this year?
Don't worry…there's loads of stuff left to do in Chicago all throughout winter.
If you're an outdoors buff, you may want to check out some of the outdoors winter activities in Chicago.
And of course, there's always next year!
All the best, and…
Gif courtesy giphy.

Banner image by Gerd Altmann from Pixabay.
BLOGS